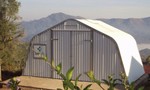 Timor Leste
East Timor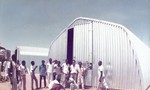 Sudan
Sudan
AGRICULTURE
Flospans have been used as bagged grain stores for many years by UN organisations, particularly the World Food Program. Five Flospans , each with a 500 tonne capacity, can be shipped in a single 20' container.
According to the UK Natural Resources Institute, Flospans are the correct choice for emergency storage when funding is scarce, management is poor, and transport is poor.
According to the UN's Food and Agricultural Organisation, an estimated 25% of all food produced is never consumed by humans. Instead it spoils or is eaten by insects, rats and other pests. Flospans represent an ideal solution for village level food storage. In South Sudan we have supplied them for P4P programmes (purchase for progress) to improve the vital issue of food security.